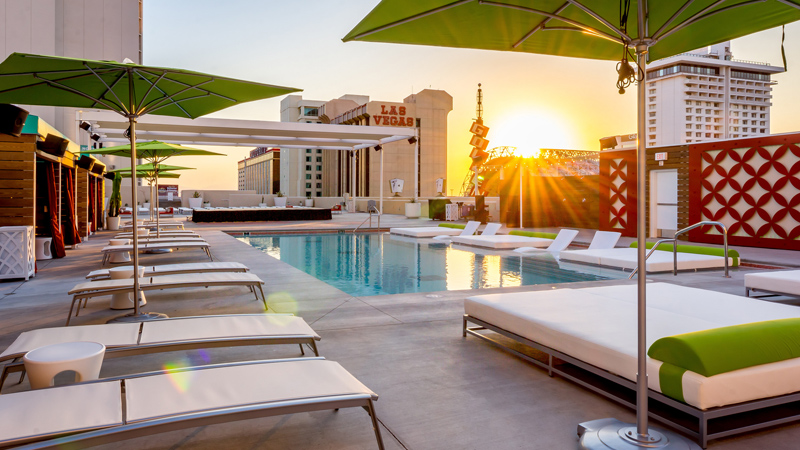 Simple online redemption & scheduling
Includes Room Tax
2 Night Stat at the Plaza Hotel & Casino (Sunday- Thursday)
One year to travel
No timeshare tour or presentation required
Phone in Reservations
For 2 adults (21+ years of age) only
Only 30 days advanced notice for booking
$50 fully refundable deposit required
Bonus Vegas BITE Discount Card (a $34.95 value)
About The Plaza Hotel & Casino
The Plaza Hotel & Casino in Las Vegas sits in the heart of Downtown Las Vegas and redefines the Las Vegas experience by creating a perfect combination of sophistication and comfort. Anchoring the Fremont Street Experience, the Plaza Hotel has been an iconic hotel in Las Vegas for the past 40 years. A recent $35 million dollar property reinvention has allowed one of the best Las Vegas hotels to retain its classic Las Vegas charm while embracing a new Las Vegas look. Voted Best Downtown Hotel & Casino 2012.
The top to bottom renovations provide the Plaza with both contemporary and classic Las Vegas touches in the 1,000+ spacious guestrooms and suites that showcase sweeping views of the glittering Las Vegas Strip and Downtown Las Vegas. The new casino floor offers an array of signature and traditional gaming choices, while the many new Las Vegas restaurants will delight and satisfy your every culinary desire! Hotels in downtown Las Vegas don't get any better than this. You will feel like royalty when you combine action of a Fremont Street hotel and casino with a fresh, fun remodel and the best hotel in downtown.
About The Vegas BITE Card
The Vegas BITE Card, the premium discount card for Las Vegas! The Vegas BITE Card will get you fantastic savings on Vegas shows, tours, attractions, restaurants, nightclubs, golf and spas. Simply flash your Vegas BITE Card at our merchants and receive amazing discounts! on shows & food at over 10 hotel/casinos on The Strip. Use your Vegas BITE Card over & over for your entire Las Vegas stay. Card is valid for up to an entire year and can be used on multiple visits. Current discounts include up to 35 – 50% off select shows and many more top Las Vegas attractions. Discounts subject to change without notice, please visit www.vegasbitecard.com for up to date discounts.
Fine Print
Travel must be completed one year from activation date. Paid value valid through (1) Year from Purchase Date. Redeem deal voucher and book dates online at www.bookmyplazastay.com. Within 4 business days of booking dates, you will be contacted by a guest representative. $50 fully refundable deposit required. Valid for Sunday through Wednesday check-in (Friday & Saturday nights may be available for a surcharge, please ask when speaking with your guest representative). Reservations require 30 days advanced notice. All reservations subject to availability. Transportation, incidentals and daily resort fees not included. Credit card or deposit may be required at check-in; cannot be resold, bartered, or combined with other certificates or offers. One voucher per household. No cash value, no cash back for unused portion. Multiple certificates can be purchased as gifts. Group travel is strictly prohibited. Group travel is defined as multiple certificates being used by groups and/or related parties for concurrent or consecutive stay. Valid for up to 2 adults (21+ years of age only). No purchase price refunds after 15 days from date of purchase. Simple and Easy redemption instructions: 1. Please go to www.bookmyplazastay.com to redeem your purchased deal voucher. 2. Select travel dates on line or choose to select dates at a later time. 3. Once voucher is redeemed and your travel dates have been selected, a guest representative will contact you within 4 business days Casablanca Express suggests that you add deals@casablancaexpress.com to your approved email list or address book Have questions or need assistance? Please contact us at (800) 315-2065 or email deals@casablancaexpress.com (Refer to offer code ZPHC) Please do not contact the Plaza Hotel directly; all reservations must be made through Casablanca Express. Please visit www.bookmyplazastay.com for additional questions or support.